Today I'm giving a shout out to my former Santa Monica Schmooze Coordinator,
Gregory K. Pincus
, whose first book,
The 14 Fibs of Gregory K.
releases tomorrow!!! I wasn't among the crowd who had a chance to pre-read this book, but I have read his e-book,
The Late Bird
, followed him on his blog, chatted with him many times in person, and I can attest that Greg knows how to make you laugh. Just the fact that he was able to take a math concept, like the
Fibonacci Sequence
, and weave it into a children's book is reason enough to want to check it out. Who knows? After I read it I may even learn to like math.... wait, it's a book about math, not magic.
Click on a link a reserve your copy of
The 14 Fibs of Gregory K
.
You can read more about Greg on his blog,
GottaBook
, as well as follow his journey to publication.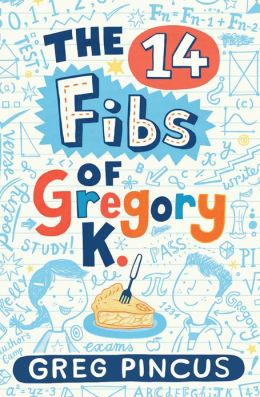 Overview:
Failing math but great at writing, Gregory finds the poetry (and humor) in what's hard.
Gregory K is the middle child in a family of mathematical geniuses. But if he claimed to love math? Well, he'd be fibbing. What he really wants most is to go to Author Camp. But to get his parents' permission he's going to have to pass his math class, which has a probability of 0. THAT much he can understand! To make matters worse, he's been playing fast and loose with the truth: "I LOVE math" he tells his parents. "I've entered a citywide math contest!" he tells his teacher. "We're going to author camp!" he tells his best friend, Kelly. And now, somehow, he's going to have to make good on his promises.
Hilariously it's the "Fibonacci Sequence" -- a famous mathematical formula! -- that comes to the rescue, inspiring Gregory to create a whole new form of poem: the Fib! Maybe Fibs will save the day, and help Gregory find his way back to the truth.
For every kid who equates math with torture but wants his own way to shine, here's a novel that is way more than the sum of its parts.
Kirkus Reviews:
(9-01-2013) This family and friendship story is the author's first novel. Each chapter begins with a poem in a form that will be familiar to readers of his poetry. These "fibs" have six lines with their syllable count based on the Fibonacci sequence: 1,1,2,3,5,8,13. They chronicle Gregory's state of mind and contribute to the final, satisfactory solution. Dialogue and humor carry the third-person narrative along swiftly, and the characters are appealing. It is unusual to meet a family in middle-grade fiction that enjoys playing math games at the table, and it's refreshing to be reminded of the importance of honesty with family and friends.
By any reckoning, a successful debut
. (Fiction. 8-12)
Are you a fan of the Fibonacci Sequence? Did you know what it was or did you have to click on the link and look it up like me? Given the choice would you want to live in a family of mathematicians or writers? I think you know my answer on this one.