Isn't that a cool name for a shop? I've never been there, I found the picture on
Photo Pin
, but it looks like it would be a fun place to visit, if only because of its name.
Today in honor of
National Cherry Turnover Day
, I thought I'd share some literary food for thought:
Literary agent, Jill Corcoran, said this is a must read: RANT: It's not a scam...but it's not good, either-- Some small presses aren't worth it. One point that stood out to me was this: If the publisher is more focused on what YOU can provide in terms of marketing and production than what THEY can provide, RUN. Sometimes I think we are so anxious to get the baby we've been cultivating for weeks, months, or years, into the hands of readers, we stop short of selling our soul; but we shouldn't. If we were willing to pour the time into writing it, I think we can pour some more time into waiting for the right person to come along and publish it.
Anne R. Allen talks about the 12 Social Media Mistakes for Authors to Avoid. Her tips were spot on, and some of her analogies were hilarious: Spamming somebody's Facebook wall is like putting up a billboard on their front yard. Other tips were career building, like #6 on blogging your WIP. Hop over there and check it out. I think it will help you navigate writing in Cyberia
Another Literary Agent, Sarah Nego, shared a wonderful post about Finding Your Magic. Her post touched my battle torn heart as I struggle through this current revision. It reminded me that as writers we don't write to fulfill a personal dream or desire, but for all the children aching for a new book to read. We press on until we find our magic because somewhere out there is a child waiting for our book.
Last week author Laurisa White Reyes shared some of her favorite childhood books, which was a fun walk down memory lane.
Speaking of memory lane cherry turnovers bring back fun memories of bologna sandwiches and hostess turnovers. I actually preferred apple over cherry, since I think cherries taste best right off the tree, but back then a sweet was a sweet. Fortunately, as I matured so did my palette. Now I prefer my turnovers from the oven instead of a wax wrapper. If you prefer to make your own, check out this
recipe
if not, check out your local grocery store. Either way, I hope you find time to celebrate National Cherry Turnover Day.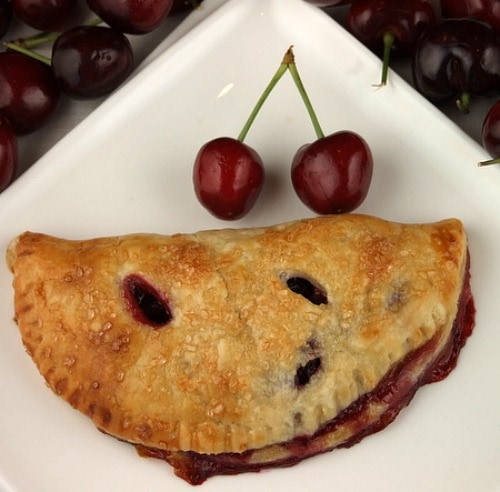 www.RecipeGirl.com
Doesn't this look yummy!?!