I'm taking part in the fourth
A to Z Challenge
where for the month of April I will blog the letters of the alphabet in order every day except Sundays. The participation list is
HERE
– if you want to join in. You'll make many new friends but most of all, you'll have fun!
My theme
– I have selected a cookie for each day and a book that begins with the letter of the day. I also added a few fun facts about the cookie and/or its ingredients. In America, a cookie is described as a thin, sweet, usually small cake. By definition, a cookie can be any of a variety of hand-held, flour-based sweet cakes, either crisp or soft.
Waffle Iron Cookies
My Review
– When I first saw this recipe for
Waffle Cookies
I thought,
Hooray! A way to make cookies in the summer without the oven
. Not so. This recipe is a disaster! First, I tried using the
Universal Recipe
, to save time, but the finished product was softer than I expected. So, I made the actual waffle cookie mix, which was much worse! It stuck to the waffle iron and came out in a pile of crumbs. In the end I went back and made the cookies with the Universal Recipe. They tasted good, but in the future I think I'll stick to the oven.
Since I'm not one to waste food, I'll crumble the waffle cookies over some vanilla ice-cream, but this is definitely a recipe to be skipped. However, there is a silver lining to this experiment, I learned how to make
superfine sugar
using my (for food use only) coffee grinder. Superfine sugar looks like powdered sugar, but taste a lot better. I may not be using this recipe, but I will be making superfine sugar again.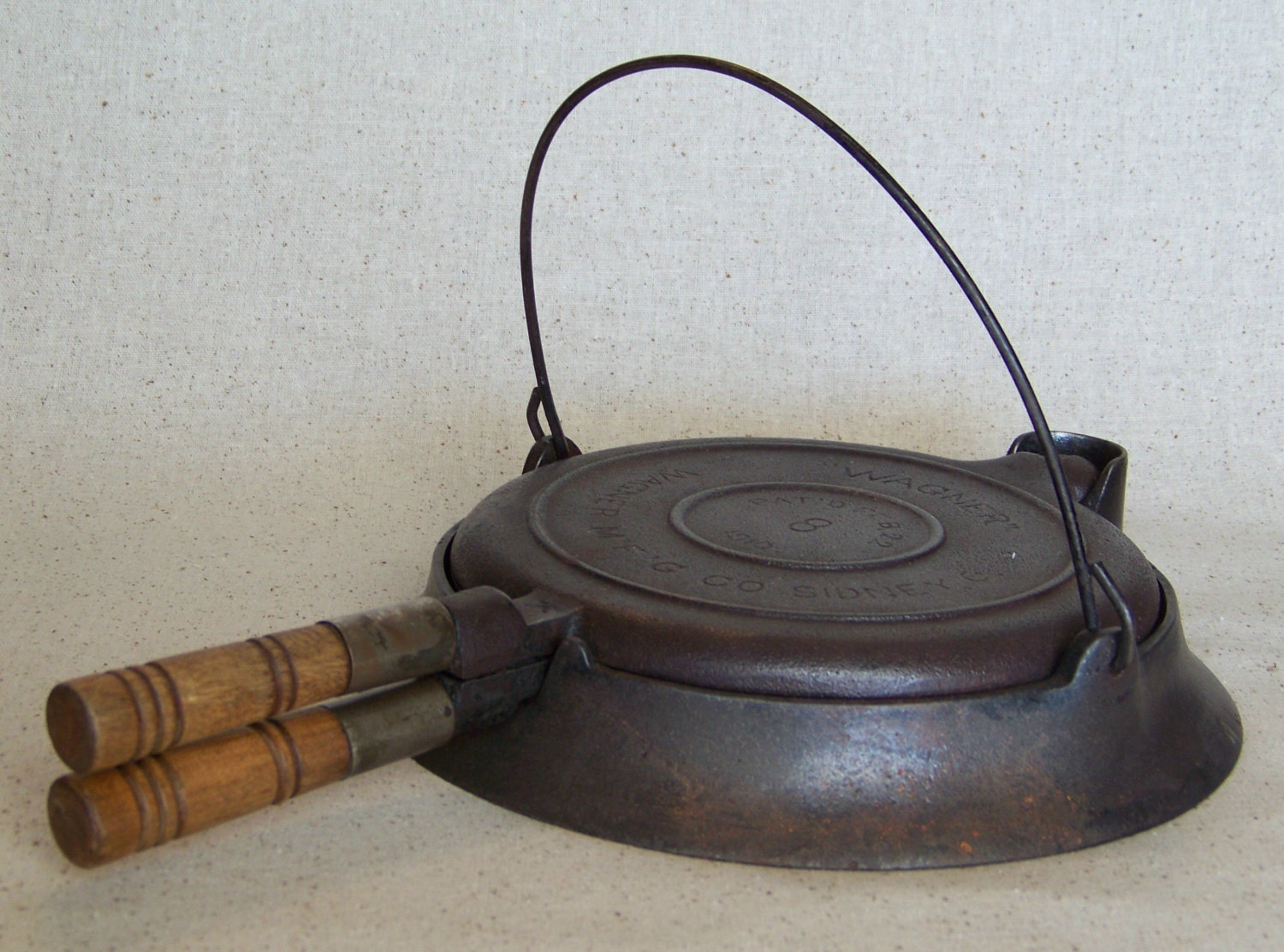 Fun Facts
– The waffle iron dates back to around the 14th century. Originally they were constructed of two hinged iron plates that were connected by long, wooden handles. Most waffle irons at this time were imprinted with elaborate patterns on the plates, such as coat of arms, religious symbols, or landscapes.
The Dutch pilgrims brought waffle irons to America in the 1620′s. Later in 1869, Cornelius Swarthout patented the first waffle iron in the U.S. They sat on wood or gas stoves and the cast iron plates were joined by a hinge that swiveled. In 1891 John Kleimbach, a German immigrant living in Shamokin, Pennsylvania became a traveling salesman of waffles after fashioning an iron for the Mansion House Hotel. Kliembach sold waffles for a penny each or ten cents for a dozen. He was a sensation at the Chicago World's Fair.
In 1911, General Electric produced its first electric waffle iron, with the help of Thomas J. Steckbeck. Steckbeck is credited with designing the first-of-its-kind heating elements that used a built in thermostat to prevent overheating, a common problem with early versions. With his revolutionary design and General Electric funding, the first fully electric waffle iron rolled off the assembly line July 26, 1911. In 1939, the "
Twin-O-Matic
" is designed by Karl Ratliff for the New York World's fair. In 1953 frozen waffles are sold in grocery stores for the first time. In 1964 Maurice Vermersch introduces the Brussels waffle recipe at the New York World's Fair and the Belgium waffle is born.
Book Buddy
–
Walk Two Moons
by Sharon Creech
"Sometimes you know in your heart you love someone, but you have to go away before your head can figure it out."
To trace the path of her missing mother, Sal embarks on a journey from Ohio to Idaho with her grandparents. On the road, Sal tells the strange and exciting story of her friend Phoebe. As the miles pass, Phoebe's tale becomes more and more outrageous, while Sal's own story begins to emerge. In unraveling Phoebe's mystery, Sal comes ever closer to finding out the truth behind her own bittersweet journey. What will she find at the end of the road?
I've been so busy A to Zing, I've forgotten to take time to celebrate the small things. This week I'm celebrating, that for the second year in a row, I made it from A to Z in the A to Z challenge. Now, I'm wondering what I'm going to blog about next month.