I'm taking part in the fourth
A to Z Challenge
where for the month of April I will blog the letters of the alphabet in order every day except Sundays. The participation list is
HERE
– if you want to join in. You'll make many new friends, but most of all you'll have fun!
My theme
– I have selected a cookie for each day and a book that begins with the letter of the day. I also added a few fun facts about the cookie and/or its ingredients. In America, a cookie is described as a thin, sweet, usually small cake. By definition, a cookie can be any of a variety of hand-held, flour-based sweet cakes, either crisp or soft.
Snickerdoodles
My Review
– Snickerdoodles are my cookie weakness. I love them so much, I could eat the entire batch in one sitting. I'm not sure if it's because they are so easy to make, or that they are sugar, on top of sugar, with a little cinnamon thrown in, or just how fun it is to say Snickerdoodle. When baking Snickerdoodles I always start with a basic sugar cookie mix, then roll the cookie dough in a sugar cinnamon mixture before baking. Snickerdoodles taste great with, milk, ice-cream or just one after the other.
Fun Facts – Snickerdoodles are drop cookies topped with cinnamon sugar that are cited in print from at least 1889. They were very popular in New England and Pennsylvania during this time. There are a few different beliefs about where the name came from. According to Wikipedia, some believe the cookies have a Dutch or German origin with their name being interpreted from the German word Schneckennudeln, or cinnamon-dusted sweet rolls. Some even believe the name originates from a series of tall tales around a hero named Snickerdoodle from the early 1900's. We may never know the true history behind the name, Snickerdoodle, but fortunately history gave us the most important part – the recipe!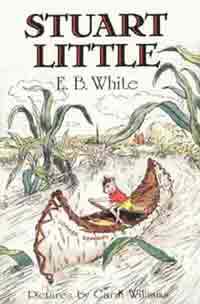 Stuart Little is no ordinary mouse. Born to a family of humans, he lives in New York City with his parents, his older brother George, and Snowbell the cat. Though he's shy and thoughtful, he's also a true lover of adventure.
Stuart's greatest adventure comes when his best friend, a beautiful little bird named Margalo, disappears from her nest. Determined to track her down, Stuart ventures away from home for the very first time in his life. He finds adventure aplenty. But will he find his friend?

Do you like Snickerdoodles? Can you say Snickerdoodle really fast five times without smiling? What is the funniest cookie name you can think of?