I'm taking part in the fourth
A to Z Challenge
where for the month of April I will blog the letters of the alphabet in order every day except Sundays. The participation list is
HERE
– if you want to join in. You'll make many new friends, but most of all you'll have fun!
My theme
– I have selected a cookie for each day and a book that begins with the letter of the day. I also added a few fun facts about the cookie and/or its ingredients. In America, a cookie is described as a thin, sweet, usually small cake. By definition, a cookie can be any of a variety of hand-held, flour-based sweet cakes, either crisp or soft.
KitKat Cookie Bars
My Review
– After having so much success combining cookies and candy for the letter
J
, I decided to do it again with the letter
K
. This was my first time having a KitKat in a cookie, but it won't be my last. These
KitKat Cookie Bars
were yuuuuummy! You can follow the recipe above, or cheat, like I did, and toss your KitKats into a package of Duncan Hines chocolate chip cookie mix. As I told a fellow blogger, it's still homemade if it's made in your home.
Fun Facts
– This product was developed as a four-finger wafer crisp, initially launched in London and the South East in September 1935 as 'Rowntree's Chocolate Crisp' and re-named two years later as KitKat Chocolate Crisp. It became KitKat after the Second World War. No one is sure where the name KitKat came from but it's thought the famous KitKat Club of the 1920s had some influence.
Over the years the KitKat four-finger has appeared in an assortment of flavors: Orange and Mint, Lemon and Yogurt, Blood Orange, and Lime. In 2005 a
Caramac
variant was launched and has proved to be their most successful variant to date.
Book Buddy
–
Kane Chronicles
by
Rick Riordan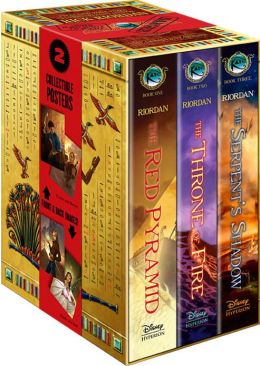 In ancient times, the magicians of Egypt were recognized as the best in the world. Each god's temple had a branch called the House of Life, where magicians were trained to battle monsters, duel enemy sorcerers, and when necessary, even do combat with the gods themselves.
What if the House of Life still existed?
When a magical accident unleashes the Egyptian gods into the modern world, Carter and Sadie Kane discover that they are descended from the most powerful Egyptian magicians, and only they have the power to set things right!
Are you a fan of Rick Riordan? Ever been to Egypt? Think you could be a descendant of Egyptian magicians?