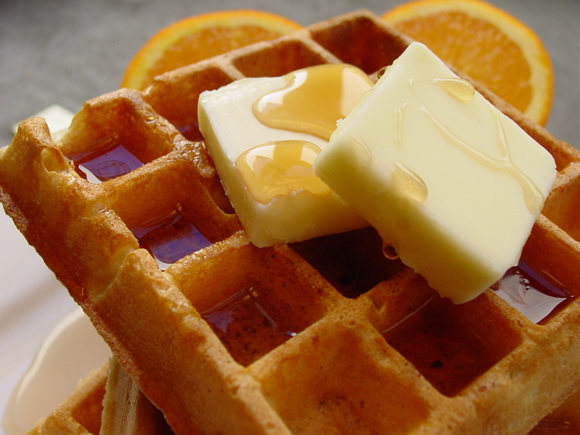 Today I'm celebrating International Waffle Day thanks to a long-ago miscommunication from the Swedes and their descendants. In the more orthodox Christian tradition March 25 is the Feast of the Annunciation — the date nine months prior to Christmas which symbolizes the angel Gabriel's visit to Mary to tell her she would give birth to Jesus [Corrected for accuracy, 3/24/11]. In Sweden, the day was instead known as Our Lady Day (Vårfrudagen), and it was widely observed in days gone by. However, since different dialects pronounced the name differently, the altered "Våfferdagen" was soon mistaken for "Våffeldagen" — and Waffle Day was born.
Although I prefer eating my waffles for breakfast, I'm not opposed to having them for lunch, dessert or dinner with fried chicken patterned after the famous
Roscoe's Chicken and Waffles
. Waffles are the perfect brunch meal since you can set up batter, toppings, waffle irons and let your guest serve themselves freeing you up to enjoy their company.
I avoid all frozen waffles preferring to make a batch from scratch, freezing them between wax paper and popping them in the toaster oven for a quick breakfast. There are a ton of waffle recipes to chose from to create your perfect waffle. It's all a matter of preference. Mr. Breakfast has over
100 waffle recipes
to chose from; I'm sure you'll find one that works for you. After you find your waffle recipe follow Mr. Breakfast's
ten tips
to get the perfect waffle.
A Quick Waffle History Lesson:
13th Century A.C. - Ancient Greeks cook flat cakes between two metal plates. These early waffles were called obleios and were primarily savory in nature, prepared with cheeses and herbs.
1620 - The pilgrims bring Dutch "wafles" to America.
1735 - The word "waffle" - with two "f"s - appears in English print for the first time.
Late 1800's - Thomas Jefferson returns to the U.S. from France with a long handled, patterned waffle iron.
1869 - Cornelius Swarthout patents the first U.S. Waffle Iron.
1953 - Frank Dorsa's Eggo Frozen Waffles are sold in Supermarkets for the first time.
1964-65 - Brussels restaurateur Maurice Vermersch brings his wife's Brussels Waffle recipe to the World's Fair in New York. The fluffy yeast-infused waffle becomes a huge hit and becomes known as the Belgium waffle.
Read more on the history of waffles at
The Nibble
.
How do you like your waffles? Have you ever tried chicken and waffles?