Another book trailer for Book Trailer Friday. Today's book is
The Light Between Oceans
, a debut novel by
M. L. Steadman
. You can watch M.L. share her thoughts on the book in this
author's video
.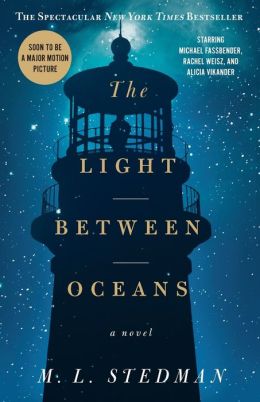 Overview:
After four harrowing years on the western front, Tom Sherbourne returns to Australia and takes a job as the lighthouse keeper on Janus Rock, nearly half a day's journey from the coast. To this isolated island, where the supply boat comes once a season, Tom brings a young, bold, and loving wife, Isabel. Years later, after two miscarriages and one stillbirth, the grieving Isabel hears a baby's cries on the wind. A boat has washed up onshore carrying a dead man and a living baby.
Tom, who keeps meticulous records and whose moral principles have withstood a horrific war, wants to report the man and infant immediately. But Isabel insists the baby is a "gift from God," and against Tom's judgment, they claim her as their own and name her Lucy. When she is two, Tom and Isabel return to the mainland and are reminded that there are other people in the world. Their choice has devastated one of them.
My thoughts:
When a friend mentioned this book to me I immediately put it on hold at the public library. I was number 202 and there were only 23 copies. That was in September 2012. I finally got the book in January of 2013 and it was well worth the wait.
This is M.L. Stedman's first book, but I'm sure it won't be her last because it was amazing. I don't know if it was the clear, elegant way she told the story or the tragedy of loss for both women that tore at this mother's heart, but I couldn't put this book down. Ms. Stedman did such a wonderful job of making me care for both women, that I didn't know who should raise little Lucy-Grace. I know the difference between right and wrong, but I also know the pain of longing and I empathized with Isabel and her burning desire to be a mom.
The Light Between Oceans did exactly what a good book is supposed to do: draw me in, make me care, and keep me turning the page. This is not a
feel good
book; although it is fiction, it is a book about real people dealing with real pain. Read it only if with the understanding that the price you pay for great writing will be raw emotions. Kudos to Ms. Stedman. I look forward to her next publication.
Celebrate the Small Things
Another Friday, another chance to celebrate the small things with Tara Tyler over at
Scribblings of An Aspiring Author
. Hop over
here
for the full info but in short: sign up on the linky list, celebrate one (or more) small things about your week with a Friday post. Next hop around and congratulate others on their celebrations.
This week's small thing is that after waiting over two years I finally got to see my son's smile free of braces! Although I'm happy that he can once again enjoy soda, gum, and a bowl of popcorn, it saddens me that he has crossed yet another milestone toward adulthood.